KING ELECTRIC
In 2008 Chris Isepp and Peter Hartwig decided a change of musical style, thus renaming the band King Electric.

"We're just a couple of idiots on the path to enlightenment. Our music is just an example of our definition of pop music. We started because we wanted to see how far we could go with that. Its a pocket full of quotations of our lives and all the music we love."

2009: Release of the first King Electric single DA KING, which had airplay in over 60 Radio Channels around the globe...The Radio Mix was also available on Sony/BMG FM4 Sound Selection 20 [peaked #5 at official Austrian Compilation Charts]. The official video clip with the two clowns was even presented as part of the Diagonale 2010 [Festival of Austrian Film] and other independent Film festivals.

2011: Release of single COMMIT YOURSELF. With the B-movie hijack theme the guys proved once more sense of humor and a lot of autonomy in the pop business. The US promo-import was surprisingly listed at #45 in the official US-Unsigned/Alternative charts.

2012: Release of debut Album KING ELECTRIC!
The King Electric self titled debut LP is a sexy, cinematic, future-retro funk-disco affair, with a mildly pensive edge, and a warm, dub-infused psycadelic aura. The record was born over a period of 4 intense years, in multiple studios scattered around the globe. Typical production sessions included psilocybin driven tape experiments, b-film screenings and sampling, as well as campfires. They were often punctuated with alco blackouts, and occasionally with a healthy bar fight. The track selection on the LP was put together for movie like cohesion and flow and it really plays like a Felini acid freak show. The record's palette includes analogue synths, liquid guitars, film samples, breathy vocals, and panoramic strings, which further amplify the big screen audio cinematic to full effect. The arrangements remain tricky throughout, the song structures progressive, but neither ever interferes with the record's effortless dancefloor inclination.

2013: Jan 12th the single OUT OF REACHpeaked #9 official German Indie Charts; releases of King Electric REMIXOLOGY incl special guests like Sixtus Preiss, B.Visible, Manni Montana, Emufacka etc plus deluxe version of KING ELECTRIC Album - watch out!

THE LAST ONE
The Last One came to life in early 2010 going one step further than the boundaries already tried out by Rodolfo Espina (Fito) and Lluis Vallès (MalditoLu), musicians, multi-instrumentalists and composers. They played together in the Barcelona band The Bares Band, now Santo Machango, over four years in different concerts and festivals across Spain, winning various competitions like Best Acoustic (Barcelona), Best Live (Barcelona) and Best mixed fusion band (Madrid).

As they shared a passion for live performances and wide-reaching musical influences, they began a project to complement it with a counter-culture chat which gained weight and matured as time went on due to the current situation in Europe, so it transmitted resounding energy through a contemporary message.

The Last One follows this route, from composing and performing to research into audiovisual productions, using Ableton Live as master of ceremonies. Their first output, cut&paste 2010-2011, is a journey via the ancestral sample culture with 70s/80s influences, an Electro Funk – E-Funk – record, which set the tone of their most forceful style. Their second work "Mënalkiawn" 2013 ("Walking free" in Mapudungun, the language of the Mapuches), continues to keep the counter-culture tone and the harsh exposure of world reality giving life to a short spiritual path towards hedonism in the present time, the pleasures of now. The project continues faithful to the process of making others aware through dance, on the floor, the rhythmic and melodic journeys leading to stimulating words full of human hope under the scratch of the needle.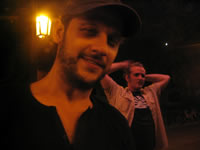 SULTANS OF SWING
Peter Hartwig and Chris Isepp took their first musical attempts at the beginning the 90s and first met each other at the upcoming and flourishing Viennese club scene. While Hartwig was touring with the well known noise-pop band the Basket Boys, Isepp made first attentions as local DJ & Producer.

Due to the new influences the Basket Boys soon split and Hartwig founded BASK with his old band mate Manny Montana; which within a few years opened the way from an Underground live act to an official recording contract. At least since the albums Dark Monkey Moods [1997] and World Slow Down [1999], the band finally is counted as pioneers of the Vienna Downtempo School. At the same time, Isepp stopped his own musical career and started as editor the "trailblazing graphic arts / technology magazine ENVELOPE" [MTV, 1994]. The magazine reached, especially in Germany and Japan, cult status and still is regarded as the first German-language print media, which united electronic music, graphic design and multimedia with each other.

In summer 2002, after several studio sessions together, the pair decided to join forces and founded Sultans of Swing. The first single Summerbreeze [2003] was surprisingly successful, received reviews in the press [UK, Germany, Japan] and was due to his "charming 70s MFSB Phillysound" worldwide in club & radio charts represented. Until 2006 it was followed by further releases on Top10 Records and various remixes / collaborations…